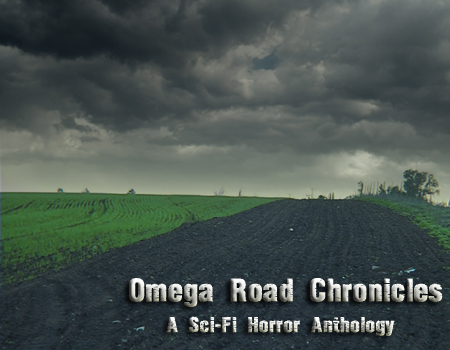 Welcome to the Omega Road Chronicles!
What if?...

Between the shadows of thought and the light of reality lies a place long forgotten. One where hope is lost, a discovery of despair, and an appetite for unpredictable horror. It's not a place where you can lock the windows and doors, but place where you come face to face with the fears and nightmares of your mind. You are about to embark on a journey: A journey reaching deep into the splinter of your mind's eye. You are not in control... we will bend and twist all your perceived thoughts to an unimaginable depth with things only our minds can conceive of... as you travel down the last path to take... the Omega Road.
An original audio drama podcast.
---




Omega Road Chronicles: Promo



Download (01:17, 1.48Mb mp3, released 2009.09.08)


A promo for our up coming audio drama: Omega Road Chronicles: A Sci-fi Horror Anthology.



---
Omega Road Chronicles: Episode 1 - Two White Doves



Download (49:55, 57.13MB mp3, released 2010.02.14)


Passionate change for a society that has returned to the ways of the past... In the future.

Featuring the voice talents of:

Jonathan Cooke as Joran
Constance Howard as Nola
Madeline Bratten as Child 1 and Child 2
Glen Hallstrom as Examiner Eurick
Christina Lam as The Fifth Consort
Monte Bratten as Zachran - Officer Two
Bruce Busby as Laxton - Officer Three
Jen Harvey as Wara - Officer Four
Tanja Milojevic as Loren - Officer Six
Julie Hoverson as Lady Shena Tolan
Gwendolyn Jensen-Woodard as Person in the Crowd 1
David Frizzell III as Person in the Crowd 2
Mark Kalita as The Announcer
Dave Frizzell as Audience Member 1
Bill Hollweg as Audience Member 2
Simon Meddings as The Autarch
and
Edison Pongklub as the Narrator

Written by: Jen Rhodes and Simon Meddings

Music by:
Kevin MacLeod
Human Response
Kyiv Chamber Choir
David Modica
Lara St John
Emsemable Mirable
Hans Christain

Directed and Produced by: Dave Frizzell

Copyright 2009-2015 Dave Frizzell and Necropolis Studio Productions



---
Omega Road Chronicles: Episode 2 - The Withered Leaves Of Autumn



Download (57:03, 65.31MB mp3, released 2010.09.02)


The acquisition of money and the evils of private corporations running the universes DNA banks... In a future Detective Noir.

Featuring the voice talents of:

Mark Kalita as Rick
Jonathan Cooke as Jim
Tanja Milojevic as Monica
Gwendolyn Jensen-Woodard as Cassie
Marianne Coleman-Hipkins as the Spaceport Announcer
David Frizzell III as the Concierge
Dave Frizzell as Ramon
J.J. Thomas as the Corpse
Dave Frizzell as the Corpse Cop 1
Monte Bratten as the Corpse Cop 2
Christina Lam as the Operator
Constance Howard as the Waitress
Sidney Williams as the Customer
Stephanie Frizzell as the Reporter
Christine Lam as the Hotel Guest
and
Edison Pongklub as the Narrator

Written by: M. Jones

Music by:
Kevin MacLeod
Lara St John
Kirk Lorange
The Union Trade
American Baroque
Ekaterina
Human Response

Directed and Produced by: Dave Frizzell

Copyright 2009-2015 Dave Frizzell and Necropolis Studio Productions



---
Omega Road Chronicles: Episode 3 - A Killer With Eyes Of Ice



Download (40:53, 46.70MB mp3, released 2015.04.11)


An interstellar plague... An inhospitable planet made into a Leper colony... A rush to find a cure... Is it for the greater good?

Featuring the voice talents of:

Rhayne Archer as Samantha
Monte Bratten as Howard
Tanja Milojevic as Elena
Chris Alder as Cob
Edison Pongklub as Delta
Alex White as Julius
Tim Rowe as Mengus
Miranda Gauvin as the Benz Mechanical Voice
Marilou Carpin as Voice 1
Mark Kalita as Voice 2
Dave Frizzell as Voice 3
Tanja Milojevic as Voice 4
and
Edison Pongklub as the Narrator

Written by: H.E. Roulo

Music by:
Kevin MacLeod
Human Response
Mystified

Directed and Produced by: Dave Frizzell

Copyright 2009-2015 Dave Frizzell and Necropolis Studio Productions














---